Give Students Gifts They Actually Want:
The crunch is on. Decorations are up and the big meal is planned, but ubiquitous holiday jingles remind you there is one item remaining on your shopping list: finding the perfect gift for your College-Aged kids. 
Last minute shopping is never easy. How do you look cool while and give them something they will use? We've compiled a list of the most useful gifts for students, so you can rest easy knowing we have your back. 
---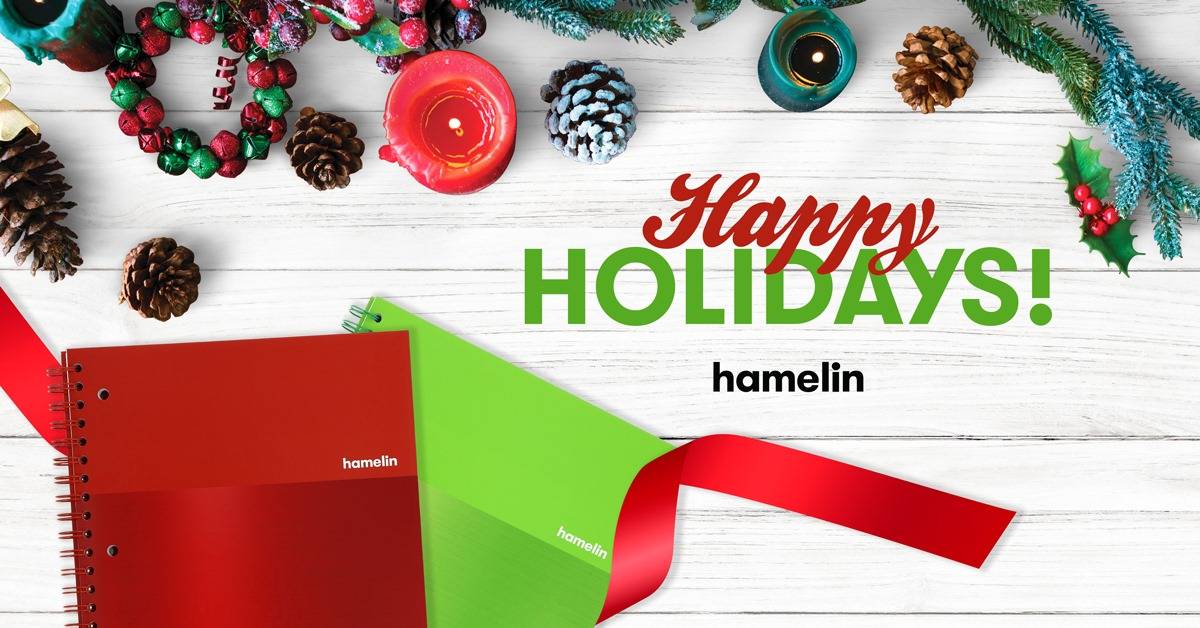 15 Gifts That Get It Done:
1 Food Delivery Gift Certificate- Show the student in your life you understand their needs by stuffing some of these into their stockings. The stomach is still the fastest route to the heart and nothing gets to the stomach faster than, UberEats, Doordash, Weee, Grub Hub, etc 
2 Power Strip – Nothing says I love you like having a place to plug in. Ensure your kids always have a place to recharge and power their, err, printers. Yeah, for all the papers they are writing... *Please follow all voltage recommendations** 
3 Notebooks & Index Cards from Hamelin – Hamelin makes the best everyday notebook on the planet and makes studying a breeze with FLASH 2.0 index cards. Two gifts in one - every purchase of notebooks or index cards comes with the free SCRIBZEE® app for digitizing notes. 
4 Headlamp/Flashlight – Whether it is an afterhours study session across campus, evening bike ride, or working late, a headlamp will make sure their path can be seen. 
5 Safety Lights – In the same wheelhouse as flashlights, Safety Lights are a great way to keep yourself visible after dark. These nifty lights come in many colors and clip onto bikes, bags, hats or clothing. 
6 Desk Organizer – Clutter be gone! Jen from Prep With Jen says to remove impediments to studying. Help your loved one clean up their act with a desk organizer suited to their needs. 
7 Bubble Tea – This Taiwanese sensation has given tapioca a whole new life. The basic recipe calls for chewy tapioca balls to be mixed with milk and tea, but there are countless ways flavor it. New vendors are popping up regularly so check the area where your student is living. Vivi has 70+ locations in the US. 
8 Movie Night – Give the gift of Hollywood. Set up your child with a blockbuster or an indie auteur you know they are into. 
9  Art Supplies – Great stress relievers, drawing, painting and crafting of many varieties can reduce agita and keep your mind fresh.
10 Tumbler, Ice or Hot – Whether you are keeping your hot chocolate caliente, or chilling your iced coffee, a reliable tumbler for liquids is a must have for the modern student. Durable and stylish, make sure to get one with a locking cap to keep spills out of your bag.
11 Ride Hail Credits - Safe, reliable transport is a must have during the cold months. Give your student a little extra assurance they won't be left in the cold by adding some much-needed funds to their ride hailing app. Uber, Lyft, etc. 
12 Fun Socks - Everyone needs socks. Help your child extend laundry day by investing in some top-quality apparel. With Sock It to Me you can be as loud or demure as you please. Sock It To Me, Bombas, etc. 
13 Multi-tool – These unique devices are easy to carry and will save your loved one in ways they didn't know they needed saving. Most are equipped with a can opener, screwdriver, ruler, and more. Wallet Ninja, Swiss Army Knife, Leatherman, etc.
14 Chocolate – Dark chocolate has been shown in numerous studies to have benefits ranging from relaxation to improved blood flow. Find a local chocolatier or sample from the many fine producers of adventurous chocolate on supermarket shelves. 
15 Local Artisan Jewelry – Students and entrepreneurs are supporting themselves through crafting jewelry. Supporting these creators is a great way to support local business. Find a craft fair or jump on Pintrest and you are sure to find amazing, one of a kind pieces your friends will ogle over. 
Whatever you decide on for your loved ones this year, do your best to source it locally! You can shop hamelin notebooks & flashcards right from our website, facebook shop, walmart or amazon. Take the time to find the perfect gift & enjoy the thrill of gifting it this season.