A goal is what you strive for & dream about all the time, a plan is how you reach it. It's important to know how to dream big & have ambitious goals but keep your plans actionable & measured so that your goals are achievable. We know you'll be successful either way but having a good plan in place makes all the difference for saving time & making your life easier.
"Hope for the best, plan for the worst"
Planning for success is easier said than done. Anyone can write down goals or throw together a plan of action, but it takes a lot more work behind the scenes to move that plan forward successfully. In the last two months we've taken an in-depth look at methods for organization & motivation. This is because all the planning in the world doesn't help if you're not motivated or you don't have an efficient organized approach. Take the time to make sure you have the right drive & resources at your disposal in order to succeed & be noteworthy!


"Shoot for the moon & even if you miss, you'll still land among the stars" - Norman Vincent Peale  
A good plan can motivate you to succeed even if it's overly ambitious. The only way to surprise yourself with your progress is by making big plans & going for it.  
Fun tip: Planning with friends or incorporating team members is a great way to ensure the plan gets achieved. The more people committed to the project the harder it is for anyone to give up.  
 
How to make a study plan:  
These are some of the best tips & techniques that we found useful when it comes to making a plan that works:  
Write down everything you'd like to accomplish with the plan. It doesn't matter if it's big or small just make sure you get it all on paper, so nothing gets left behind  
Translate these into steps, tasks & jobs to make sense of how to schedule it best. Make sure you know how to achieve each of these steps, if parts of the plan are too vague, they'll be easier to push off & ignore
Once you've got it all laid out establish a time frame for the plan that makes sense with your workload & productivity for the semester. If need be, separate the ambitious parts of the plan into long term planning so you don't get distracted. It's okay to be flexible
Make a schedule to divy up the steps & tasks so they fit into your time frame. Pro tip: Working backwards here can be helpful
Review it from start to finish & tweak any errors. Be careful not to get stuck over planning!
What are your favorite techniques for planning?  
If one things for certain it can be super easy to over plan! Here's a graphic with some common things to avoid if you find yourself over-planning often:  
---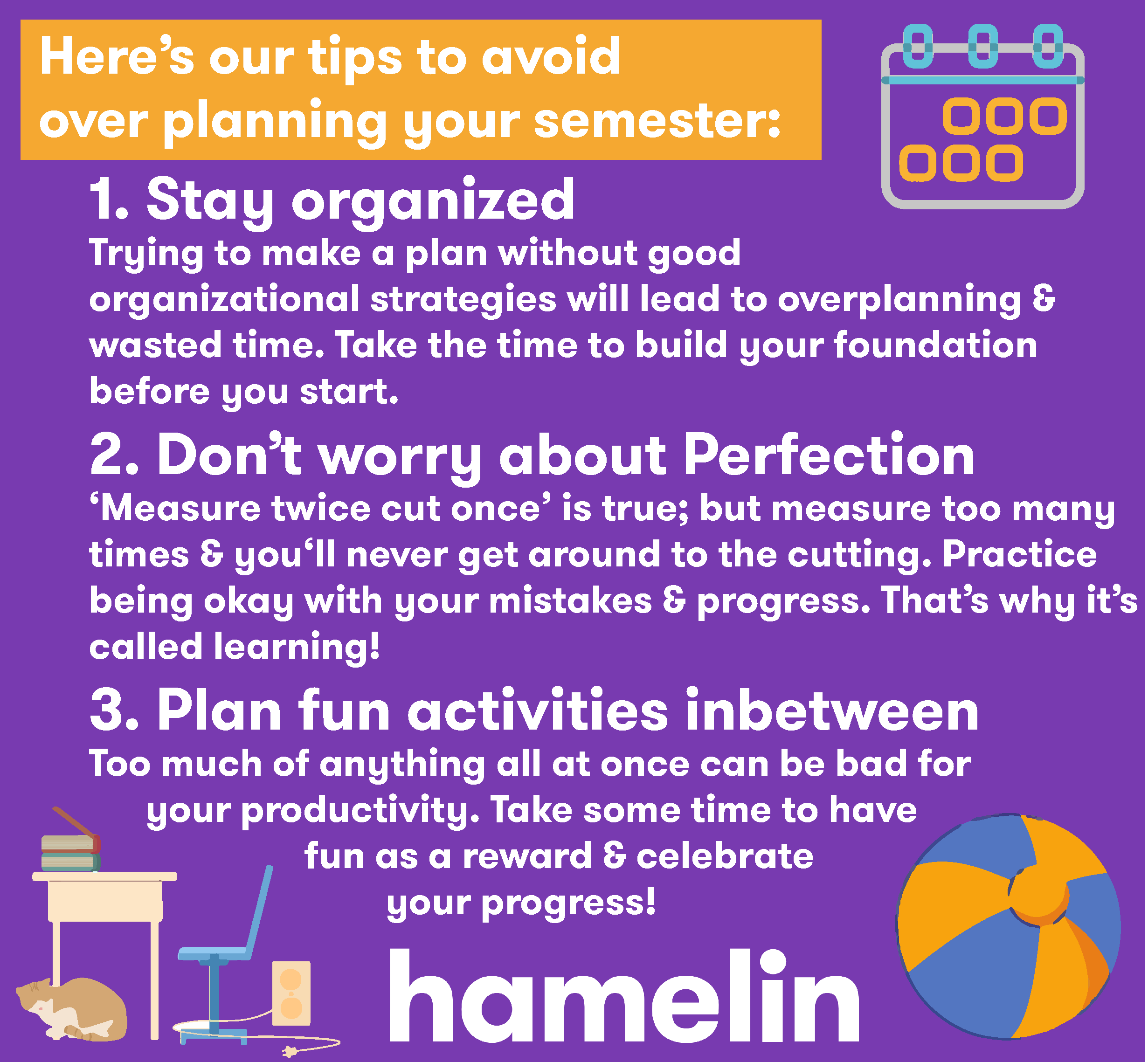 Conclusion: 
To recap here's a great video from one of our favorite content creators Thomas Frank:  
We think Thomas does a great job summing it up in his intro.  
There's no wrong way to make a plan as long as you're out there getting things done & being noteworthy! These tips & tricks are helpful to us & we hope they'll help you gear up to have your most amazing school year yet. The best part about putting the finishing touches on a great plan is being able to scan into your phone so you can always check your progress. To learn more about all that SCRIBZEE® products can do to help your semester be sure to check out our recent SCRIBZEE® tips video here.